What is Quickbooks?
Quickbooks is one of the most popular accounting software programs on the market. It is designed to make it easy for business owners to manage their finances, track their expenses, and keep track of their sales. Quickbooks can also be used to create invoices, organize your files, and more. If you are looking for an easy way to run your business, Quickbooks is a great option.
A Quick & Easy Guide To Using Quickbooks
Quickbooks places customer onboarding at the top of its priorities. Quickbooks recommends that anyone considering using the program for their accounting requirements contact the Quickbooks sales team, which can be reached Monday through Friday between 9 am and 5 pm PT. Quickbooks also has extensive onboarding documentation to assist clients in the setup process. Small businesses can access their accounts via the web UI or mobile apps from anywhere, including while traveling
Quickbooks Feature
The monitoring tools used to monitor project profitability
Quickbooks allows users to keep track of each project's profitability. Quickbooks can also pull in cost-of-doing business (CODB), data to calculate the project's profitability. This helps project-based businesses identify potential cost overruns and maintain profitability targets.
How to track inventory levels in real-time
QuickBooks helps with inventory tracking in order to support online businesses. Quickbooks also offers an inventory tracker that can be used to avoid overstocking or understocking. As soon as purchase orders (POs), are entered into the system, customers can get instant notifications about stock levels. Businesses can quickly identify the best-selling merchandise with on-demand reporting. Online sales reporting can be synced with major eCommerce platforms like Amazon, Etsy, and Shopify.
How to track your company's finances
Expense scanning
Quickbooks allows users to capture expenses by scanning them and uploading them into the platform. Or, they can email them to an address that is associated with their account. Users can then categorize the receipts captured in Quickbooks. Quickbooks also uses optical character recognition technology (OCR), which automatically detects the contents of scanned receipts, including vendor, payment method, date and amount. Invoices can be attached with expenses. This feature is helpful for freelancers and companies that invoice their clients for expenses they have incurred.
How does QuickBooks Online work
You will see a complete overview of your QuickBooks account. This dashboard includes information such as cash flow, invoices and sales. The Banking tab (or Transactions tab) on the left sidebar of the dashboard lets you connect your bank account and credit card account to automatically download and categorize transactions. These transactions will be available for review in the For Review tab of the Banking menu when you reconcile your books. Next, customize your invoices and set up automatic sales tax tracking. Learn how to enter mobile receipts or bills. The gear icon is located in the upper left corner. You can access all your company's account settings. You can invite your accountant or bookkeeper to QuickBooks Online by using the Manage Users or My Accountant tabs.
Benefits of QuickBooks Online
QuickBooks Online is the industry standard for small businesses. These are some of the highlights:
QuickBooks Online makes it easy to maintain detailed records and report. Splitting an expense into multiple items or categories is also possible. You can track inventory with QuickBooks Online Plus or Advanced. This allows you to calculate job costs and create tags.Get insight into how much money your business is spending. These features will help you organize your finances, provide insight such as cost-cutting options or sales trends that can be used to grow and improve your business.
QuickBooks Online Plus or Advanced can help track inventory, cost of goods, and set up low stock alerts..You can create purchase orders, manage vendors, and sync inventory with third-party platforms such as Amazon and Shopify. However, some competitors like Xero have similar inventory management tools. Other alternatives, like FreshBooks, offer basic inventory tracking capabilities.
How app integrations work
QuickBooks Online allows you to access over 600 apps, including third-party tools and QuickBooks add-ons. These apps don't necessarily have to be used to make the most of QuickBooks Online. However, they can provide you with additional functionality and reduce duplication across platforms. QuickBooks Time (formerly TSheets) allows you to approve timesheets and track employee time in QuickBooks. Other apps are available to help you prepare taxes, obtain business funding, manage customer accounts, and generate financial reports and insights. QuickBooks Time is one example of an app that has associated fees. Other apps are completely free.
Easy to find QuickBooks resources
You can access resources related to QuickBooks Online regardless of whether you choose to do your bookkeeping yourself or hire a professional. First, QuickBooks Online allows you to share information with your accountant if you work with one. You can send an email invitation to your accountant or bookkeeper and they will be able access your account to make any necessary changes. QuickBooks is widely used in accounting software and experts are readily available to help you. With less popular accounting software, this might not be true. There is also the option of finding an accountant through QuickBooks ProAdvisor. The online resources for QuickBooks Online are available to anyone, professional or not. QuickBooks Online offers webinars, video tutorials and training classes. There are also community forums, support topics, and other resources on the website. For any assistance you might need, you always have the option to contact QuickBooks customer service directly.
Quickbooks Pricing, Plans, and Options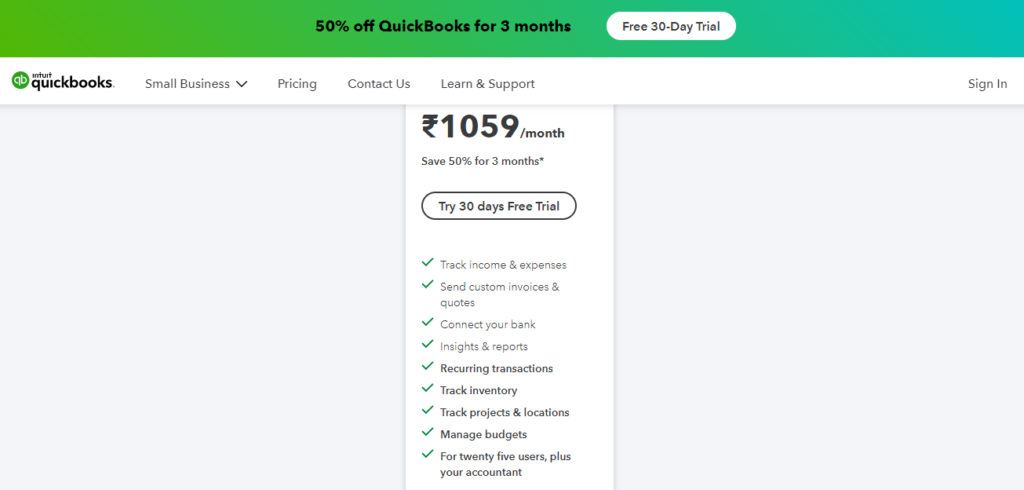 You can choose from the base plan to Advanced or advanced plans. This is for experienced users who have up to 25 users. Payroll Core adds an additional $22.50 per month plus $4 per employee for processing.
Billing and invoicing
Bill Organization
Quickbooks allows you to enter invoices and keep track of both accounts payable and receivable. Quickbooks allows companies to settle outstanding balances by credit card, debit card, or bank transfer. You can initiate all payment options from the user area. All payments are tracked and recorded through the system. Users can also connect to their bank accounts to track and categorize outbound and inbound payments. To maximize cash flow, the system supports deferred bill payments.
Invoicing for professionals
Quickbooks has a number of key features that allow users to create and send invoices. Quickbooks allows users to:
Use theme customizations to ensure that invoices follow corporate branding and style guidelines.
Configure recurring invoices. This is ideal for businesses who bill clients on retainer.
Add billable hours. Users can easily import these hours by integrating Quickbooks with Google Calendar and TSheets.
Quickbooks Integrations
Quickbooks offers integrations that connect to other online services. These integrations allow customers to remotely edit and download their financials from Quickbooks and other services in one place.
These include:
Time tracking apps and Calendar: Quickbooks integrates with Google Calendars and Tsheets to import and bill time from client accounts.
Ecommerce connectors are also available. BigCommerce Quickbooks is one example. It allows companies to generate the documentation needed for online sales automatically.
How To Use The QuickBooks Mobile App
Quickbooks offers apps for iOS and Android. These can be downloaded from both the Google Play Store or the Apple App Store. The app version only contains the features that are available in Quickbooks Online Simple Start. Customers on the Essentials Plus and Advanced plans won't be able to access additional features via the Quickbooks mobile apps at the time this article was written. The mobile versions of Quickbooks can also be used to access multiple accounts. Quickbooks' mobile card reader allows users to make and receive payments from their mobile devices. The app allows customers to invoice them directly.
How To Contact QuickBooks Customer Support
You need to contact Quickbooks customer service. Intuit has an extensive online troubleshooting section. If users are unable to resolve their questions through the documentation or the community forum they can start a support conversation over chat or phone. You can reach the phone line Monday through Friday from 6am to 6pm. It is closed on weekends.
Bottom Line
Quickbooks is a popular accounting and invoicing system for small businesses around the globe. Quickbooks' features include tracking contractor expenses, project profitability reporting, receipt capture via direct upload and email, and receipt capture. The premium tiers are available for a fee, although there is no free one.