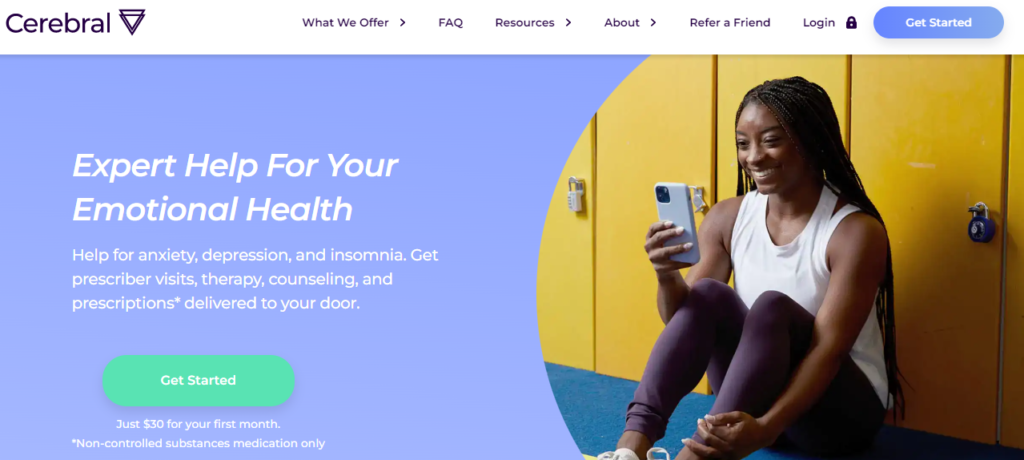 Cerebral is an online mental health service that offers support for anxiety, depression and sleep disorders. With the help of a licensed physician, Cerebral offers both talk therapy and medication. It operates on the collaborative care model to manage symptoms.
What is Cerebral Uniqueness?
Cerebral offers many advantages over other online therapy services. It specializes in specific areas related to mental health care. This may not be the best option for people who need more mental health expertise. Cerebral is a valuable service for those suffering from depression, anxiety, or other mental disorders. Cerebral offers therapy sessions at a fraction of the cost of traditional therapy. The multi-tiered therapy approach is what sets Cerebral apart from other companies. The team includes case-specific medication and talk therapy with a mental healthcare professional. They also monitor your progress to keep you informed. This team checks in with you monthly, monitors your medication reactions, and can help you adjust your treatment if necessary. This multifaceted approach has been proven effective in managing and treating mental disorders.
**It is important that you Cerebral not prescribe stimulant medication to ADHD patients and will only recommend non-stimulant treatments.
What are the Benefits of Treatment with Cerebral?
There are many benefits to treatment with cerebral, including:
Improved mood and well-being.

Increased focus and concentration.

Greater insight and understanding of oneself and one's thoughts and feelings.

Improved communication and negotiation skills.

Greater self-awareness and self-confidence.

Greater ability to control impulses and emotions.

Greater resilience in the face of adversity.

Greater ability to manage stress.

Reduced anxiety and depression symptoms.

Increased productivity and creativity.
Pros and Cons of Online Therapy
There are many pros and cons to using online therapy. On the pro side, online therapists can be more accessible and affordable than traditional therapists. They don't have to travel to see clients, so they can work from home. Additionally, online therapy allows for more flexibility in scheduling sessions. This can be helpful if you have a busy schedule or you're traveling.
On the con side, online therapy can be less effective than face-to-face therapy. Online therapists may not have the same level of personal connection with their clients that a traditional therapist does. Additionally, some people feel uncomfortable talking about personal issues online. If you're uncomfortable discussing your issues with your therapist online, it may be difficult to achieve the level of therapeutic progress you're looking for.
Pros
Online medication and therapy

Model of collaborative care for holistic, maximum care

It is extremely cost-effective
Cons
Some plans are not available in all states

Treatment of only a limited number of disorders
Overall, there are pros and cons to both types of therapy. It's important to choose a therapist that's right for you based on your needs and preferences.
What are the Different Types of Therapists?
Therapists come in all shapes and sizes. Some specialize in one area of therapy, while others work with many different types of patients. However, there are a few common types of therapists you're likely to encounter online.
Cognitive-Behavioral Therapists: Cognitive-behavioral therapists specialize in helping people change the way they think and behave. They use a variety of techniques, including counseling and group therapy, to help patients identify and change the ways that can lead to problems.
Freudian Therapists: Freudian therapists use psychoanalysis to help patients explore their own personalities and conflicts. This type of therapy is often helpful for people who have difficulty dealing with their emotions or who have struggled with sexuality in their past.
Mindfulness Therapists: Mindfulness therapists can be a challenging task, as our thoughts tend to wander throughout the day. Mindfulness therapists teach their patients how to notice these thoughts and then let them go.
Non-Psychiatric Therapists: Non-psychiatric therapists don't typically work with psychiatric patients. However, they may be able to help you with a variety of issues, including stress, anxiety, and depression.
Personal Trainers: Personal trainers help people to improve their fitness and health. They may offer guidance on how to start exercising, as well as advice on diet and nutrition.
Sports Therapists: Sports therapists work with athletes of all levels to help them recover from injuries, improve their performance, and prevent future injury.
There are also a number of other types of therapists, including social workers, chaplains, and painters. If you're looking for a therapist who specializes in a certain area of therapy, be sure to research the options available before making a decision.
Screening of Therapists/Counselors
Cerebral is a network of board-certified psychiatrists and physician assistants. Cerebral tries to cover all 50 states, but sometimes it is not.
Get help with:
The long-term treatment for these disorders is possible with Cerebral.
Anxiety

Depression

Insomnia

Some cases of bipolar disorder can also be found
Cerebral Pricing & Special Offers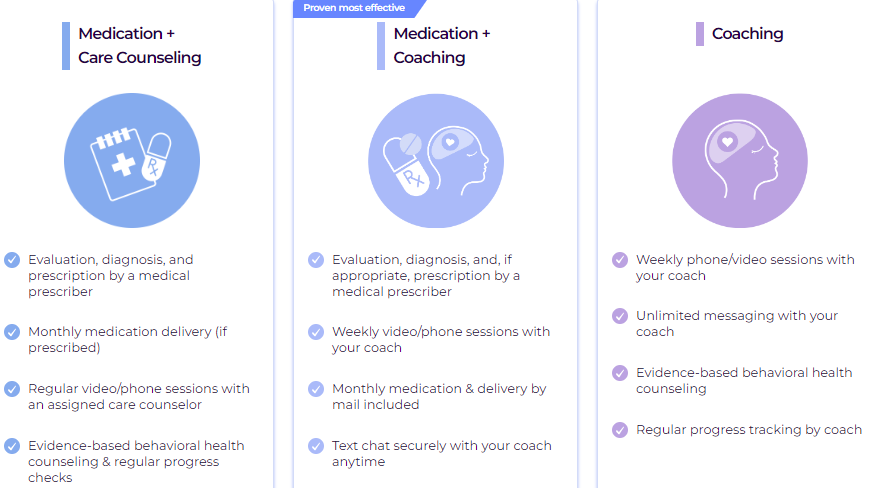 Cerebral offers a variety of plans depending on the type of treatment that you are interested in and how often you feel you and your care team need to meet. Cerebral works with both health insurance plans as well as FSA and HSA accounts. This is a great feature. Even better, Cerebral can submit claims on your behalf even if you are not covered by insurance. If the insurer agrees, Cerebral can reimburse you. Cerebral offers special deals from time to time, such as $30 off your first month of their Medication & Counseling Plan. Cerebral, regardless of whether you pay with your insurance plan or not, is still cheaper than traditional in-person therapy. The convenience factor of having the medication delivered online is also a benefit. These services offer a great value for money.
*Medication charges are separate from subscriptions and not included in overall cost.
What Cerebral Users Have to Say
"WOW! "WOW! My initial reaction was to be skeptical about the possibility of using the internet for my medication. My doctor took time to find me the best meds and also talked to my care counselor about making sure that the program was working without meds.
– Jackson C. Cleveland, OH
"I used to have to sacrifice my work time to go to a psychiatrist. He didn't even remember my name. Cerebral now cares about me and is open to my ideas. It's like I feel truly heard. They also send me my medication right to my doorstep, and my care counselor is there whenever I need it.
– April D, Abilene, TX
"Finding my team was such a blessing that I so badly needed. I feel like I'm in the best hands, that care about me, which can sometimes be just as effective as any medication. You all make a real difference, and I hope you are all blessed abundantly.
– Chris
Schedule Live Chats/Video Chats
Cerebral simplicity is what makes it so attractive. Everything is done online, or through the mobile app. There are no office visits required. This is the basic process:
Fill out a questionnaire online
Please answer a few questions to help Cerebral Care providers understand your situation and symptoms.
Based on your needs and situation, decide how often you need treatment.
Book a session via video or telephone
Online scheduling is possible or you can use the mobile app to make a booking. You may be able, in some cases, to schedule your first provider visit right away. You will be able to work out a treatment plan together with your prescribing physician. For support, advice and guidance, you will need to meet with a therapist or care provider for the next sessions.
Schedule appointments from the Appointments or Tasks tabs of your profile page.
Your medication will be mailed to you each month. You can talk to your doctor if you have any questions about your medication.
Monthly chat with a care counselor
The Medication & Care Counseling plan includes a monthly chat with a counselor.
This session is to assess your progress, review how your medication is working and discuss any changes to your treatment plan. This is also an opportunity to learn new tools for managing mental health. You'll be seeing your therapist if you are on a therapy program.
You can also chat online with your care team throughout the month.
Support for Customers
Cerebral has a strong customer support team that is available to help users with any questions or concerns they may have. If you are looking for an online therapist that provides quality support, look no further than Cerebral. You can reach us via email or phone for any non-treatment-related questions or concerns.
Hours of support:
6 AM – 6 P.M. PT (Mon. – Fri.)
7 AM – 4PM PT (Sat. – Sun.).
Conclusion
Finding the right therapist can be difficult, but fortunately, there are a number of online resources available that make the search easier. Not only do these therapists offer convenient and affordable services, Many therapists offer video consultations so you can get a sense of their style before committing to seeing them in person. If you're looking for an experienced therapist who will listen and provide tailored advice, online therapy is an excellent option.