Zoho offers cloud-based business applications which include customer support, financial as well as contact management software. Zoho CRM is a combination of marketing and sales automation, advanced analytics and reports, process management, and collaboration tools. It also has lead management powered by AI. Zoho CRM is part of the business suite offered by the company. software. The CRM suite provides an extensive array of features and tools that are suitable for marketing and sales teams, such as AI-powered sales workflows, as well as automatized marketing strategies that work cross-channel. With Zoho, it's simple to work with different departments, and also remove unnecessary noise so that you can focus on the information and tasks you require.
Zoho's most popular features are automated sales tools that are powered by AI, customized analytics that is deep and flexible, and numerous integrations.
Tools for Sales Teams
Zoho's primary focus is simplifying and automating the work of sales staff. The tools that are interconnected include workflow automation macros, webhooks and custom-built functions that enable sales teams to have all the information and tools that they require available. You can make use of Zoho's automation rules that are default such as sending out a text message after an order is dispatched or you can create your own.
Zoho SalesSignals integrates all the information about each lead in one location, combining the behavior of a website as well as social media activities and interactions between sales representatives.
Zia can be described as Zoho's AI feature. It detects automatically the ideal timing to contact every prospect, evaluates the tone and tone of emails, detects patterns and anomalies that can assist in making selling processes run more efficiently and provides suggestions to simplify workflow.
The features for sales teams comprise:
SalesSignals will unify cross-channel interactions

Reliable, customized notifications are sent out whenever the lead is reached out

Automatically add leads from social networks

Auto-assigning new leads

Macros

Webhooks

Automated workflows that meet up to 10 requirements

AI-powered follow-up automated

Predictions for deal and lead
Tools for Customer Support Teams
Zoho CRM offers some customer support tools, however the majority of them are offered via Zoho Desk, which is an entirely separate platform for customer support which integrates seamlessly with Zoho CRM. Zoho CRM's customer support tools include:
Click-to-call

Live chat support for customers

User portals
It is possible to use Zoho to automate special-offer campaigns as well as vouchers to purchase discounts, but it's not the primary goal of the program.
Tools for Marketing Teams
If you have a plan according to your plan, you can take marketing automation to the max using Zoho. It is possible to use Zoho to send out mass emails as well as set autoresponders. You can also use email templates, and design sophisticated marketing campaigns. Zoho lets you establish budgets and monitor the return on investment. When you sign up for the right Zoho packages, you are able to manage Google ads, track leads from websites, and even manage leads you have gathered through trade shows and face-to face meetings. There are many additional features:
Templates for email

Email campaigns

Tracking the number of visitors to websites

Mass emails

Autoresponders

Google Ad Campaign Management

Web-based forms

Webinar hosting

Surveys

Scanning business cards

Automated management of contacts
Customization and Integrations
Zoho owns an collection of business-related software, and therefore the Zoho CRM is compatible with all the other Zoho tools. Zoho CRM has an API open to integrate to the most popular business tools, and has built-in integrations with hundreds of applications like MailChimp, Shopify, Zapier, Office360, and more.
The base Zoho CRM is pretty simple in appearance, but that's mostly due to its openness to customizing. It's possible to alter designs, layouts and views and create fields, components and subforms; as well as adapt the functions and capabilities.
Zoho has also designed a pipeline-centric CRM that is specifically designed for small-sized businesses, known as Bigin. It is priced at $7 per month for each user and is an ideal place for small-sized businesses to get their feet wet into the pool of CRM.
Reporting and Dashboards
Zoho CRM offers a broad range of reports, analytics, and dashboards. The degree of customization and intensity of the visualization is dependent on the pricing plan you choose. With Zoho you'll be able get real-time reports that are customizable searchable, shareable, and searchable, so you are able to easily locate the information you need. Dashboards and graphs may be customized, shared and modified as often as you'd like which makes it simple to evaluate data, detect patterns, and monitor KPIs. Zoho's reports offer forecasting as well as segmentation of reports, which means you can assign distinct areas of analytics and reporting to different people.
Mobile Options
Zoho's Mobile CRM application is efficient and efficient. It fully syncs with the online CRM which means you can continue where you left off when you're offline for a bit. The mobile CRM provides leads' sales data, their geographic location, and scheduling support.
Plans and Pricing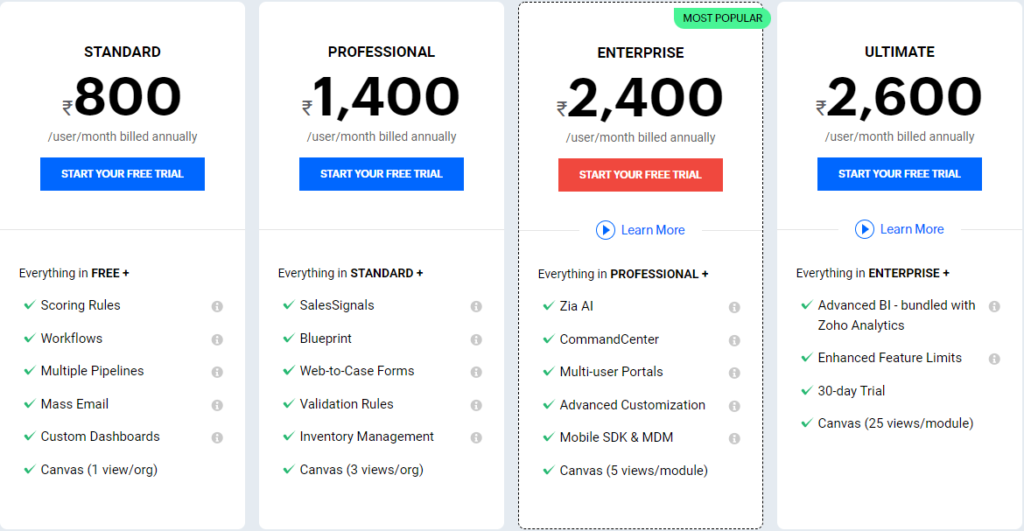 One of the great things about Zoho CRM is the fact that it's so adaptable. You can start using the free version, which comes with only limited automated sales, email collaboration as well as workflow tools and provides the most basic of analytics as well as support for customers. It is suitable for up to 3 users, which makes it an ideal option for small-sized businesses to begin out.
The Standard plan includes more automation of sales and emails, tools, customizable reports and dashboards as well as email and social media analytics and more robust integrations and tools for developers.
Upgrade to Professional to gain additional workflow guidelines, emails as well as customized charts and reports. Professional also offers inventory management and google Ads administration, webhooks, and unlimited records.
Enterprise includes a variety of features that are advanced, including Zia Voice, Zoho's conversational AI service, BI tools, autoresponders user portals, and many more.
The Unlimited plan offers all of this, along with advanced customisation data enrichment, improved storage for data, and more.
The Ultimate plan comes with all of this, plus advanced BI combined together with Zoho Analytics, plus advanced customisation enhancement, data enrichment, improved storage of data, and much more. All paid plans include Classic support. You can avail premium or enterprise support for an extra cost when you purchase a paid plan.
Ease of Implementation and Use
Zoho is completely cloud-based There's nothing to configure, install or download. There's plenty of help to assist you in integrating, such as tutorials, training programs, how-to videos as well as FAQs, webinars as well as tutorials which let novice users to try out Zoho features before attempting to use them in real-time.
While there's a lot of information available to assist new users, Zoho itself is pretty simple to use. The dashboard is easy to understand and every feature is clearly defined. If you're unsure of what a particular tool , or icon does it is easy to navigate into the Help Center and get help regarding how best to utilize it as well as strategies to get the most value from it.
Customer Service
Zoho offers a comprehensive help section that includes tutorial videos, eBooks, tutorials, webinars and training programs, FAQs, as well as extensive documentation.
For help, users are able to reach out to other users via The User Community forums and the self-service website before contacting the official customer support via telephone and email. Support agents for customers are available 24/7 from Monday morning to Friday evening. Zoho offers local numbers in more than dozen countries across the globe.
Conclusion
Zoho's cloud-based CRM is notable by its AI-powered marketing and sales automation, comprehensive analytics, visualization and reporting with flexible pricing, as well as a many integrations. It's user-friendly and simple to install, and comes with outstanding customer service. Being part of the Zoho business software It's highly useful, however it comes with very few tools for support teams. For small and medium-sized enterprises, Zoho is scalable and efficient.
Best Performing CRM by thequick10
Not impressed with these CRM but wait we have more best alternative CRM for you that you will love to see it. These CRM are top rated and personally reviewed by the thequick10.com. Visit now Comparison pages and see top CRM company now