Strikingly is a user-friendly website builder which allows you to build your own your own websites and online stores. The platform is unique in it allowing you to sell a single product for free, however upgrading your website can be costly. Strikingly doesn't provide as many options as the more sophisticated web builders. All in all, Strikingly is a good alternative for first-time website creators however it's not able to provide enough control over design for advanced users.
Strikingly is an online web-based website builder which was launched in the year 2012. In the beginning, Strikingly distinguished itself from its competitors by providing a builder that was simpler to use, and also offered more contemporary-looking templates. Nowadays, Strikingly powers an estimated 50k websites.
The Strikingly platform is still a standout because of its ease to use. While other builders for websites offer greater options for design, they're more complexand generally takes longer to design the new website. It's best for people who want to start with simplicity as well as want their website online in the shortest time possible.
Using Strikingly
One of the major benefits that comes with Strikingly is that it's extremely simple to start with. There's a dashboard on the back however you do not require interaction with it to manage your website. Instead you can make the majority of changes using the drag-and drop web builder.
Strikingly offers more than 160 templates for free to help you begin designing your website. All Strikingly websites are mobile responsive as a default, meaning you don't have to think about modifying your mobile site. Storage and bandwidth are both limited for certain plans, but we noticed that Strikingly did not slow down as we got close to the limit on storage.
Strikingly Features and Tools
Unlimited Free Websites
Strikingly allows you to create unlimited websites for no cost. The sites that are free require the Strikingly domain, and are restricted up to 500MB in storage however, you are able to sell 1 item per website.
Live Chat
Strikingly allows Live chat functionality on your site by offering a VIP plan. Live chat allows you to communicate with customers in real-time, offer assistance, and gather details about your customers, such as name and email address.
Memberships
The Strikingly Pro or VIP members can create customer accounts. They can be paid or free memberships. Website pages may be locked so that they're only accessible to specific membership levels.
How to Create a Website with Strikingly
Making a brand new website using Strikingly is a breeze. You can begin by pick from the website's collection of more than 160 templates. The templates are contemporary and diverse and you are able to change templates at any point.
As opposed to other builders for websites, Strikingly does not enable users to add contents elements on your webpages. Instead, you build pages by incorporating pre-made sections to your site. Section categories include pricing displays banners, galleries of images and forms, blog feeds and many more.
Each section is accessible in a variety of layouts, giving the possibility of changing the appearance and feel of your website. There is also the option to display or hide various content elements in every page section. Drag-and-drop is disabled by default. However, you can activate it to change the order of content in each page section, beyond the limitations set by the layouts that are predefined.
One kind of page section that stands out Strikingly gallery pages. You can alter the dimensions and arrangement of galleries with an easy grid adjustment. Additionally, Strikingly offers magazine layout options to display your photos in various sizes. The magazine and grid displays look nice with small effort in design.
Strikingly offers an option for style that allows users to alter the colors as well as fonts, padding as well as other elements of your site. There are many styles controls that are suitable for websites with basic features however, it is important to remember that you can't directly alter the site's HTML as well as CSS code.
Every change made to your Strikingly website are automatically saved The set of redo and undo buttons makes it simple to modify your work. There's no option to export or move websites from Strikingly.
In the end, we're awestruck by the ease with which it is to create websites using Strikingly. The page sections of the platform are well-designed, as are the styling controls that ease the process of creating your site's design. The downside is that Strikingly isn't able to build particular content elements or to edit your website's CSS as such, and it could be limiting for more experienced web designers.
Adding Multimedia to Your Strikingly Website
You can upload photos and videos to Strikingly directly from your personal computer. Strikingly can't transfer pictures directly from social networks or cloud storage. It is only possible to upload one image at a time and each image within the gallery has to be chosen separately.
It is helpful, Strikingly has a built-in media library, allowing you to reuse images on your website. It also has the library of stock images from Unsplash.
The speed of Strikingly did not slow as we uploaded images to our website. Overall, the uploading process is simple, but uploading images one at a be a lengthy process.
Marketing Functionality on website designs that are strikingly attractive
Strikingly provides a variety of marketing tools. First, the platform lets users to collect information about visitors such as names and email addresses via form forms, chat and pop-ups. Live chat and pop-ups can be particularly beneficial for creating your customer database as they let you interact with your visitors in real-time as they're browsing your site.
Strikingly comes with a simple CRM module. (CRM) software that allows users to sort customers by the source, last interaction, and even custom tags. It is also possible to transfer customer data from CSV. CSV.
Additionally, Strikingly offers an email newsletter builder. This is a basic tool and isn't meant to replace an email marketing platform that is specifically designed for it. However, it could be helpful if you're just getting started with marketing via email and require an option to communicate emails to customers. Strikingly can send basic emails when triggers are activated, such as purchase orders and form entries.
It is also possible to set up your blog using Strikingly. The editor for blogs is basic , as it allows you to only include text, images, videos, buttons and separators. It's nevertheless easy to use and Strikingly lets you organize your posts in custom categories.
SEO-related Add-Ons and SEO-related Functionalities for strikingly designed websites
Strikingly provides a few features to optimize your site's search results (SEO). It has a basic SEO checklist (available on all plans) which encourages users to create an appropriate name and meta description of your website. But, the checklist isn't complete and doesn't actually evaluate your website's SEO potential.
Strikingly comes with an in-built traffic analytics dashboard for all websites, however it only displays the number of people who visit your site within a predetermined timeframe. It does not display sources of traffic and demographics or any other crucial information. You can also add Google Analytics to any Strikingly website which includes free sites.
E-Commerce
One of the aspects that make Strikingly different is the possibility to sell your products on any website which includes a single item on free websites. It is possible to sell physical products as well as services, digital downloads and memberships. Each item can include at least 10 images and Strikingly lets you to sell items in advance that aren't available yet. It is also possible to add products with different variations and establish your own shipping policies.
Users of the Pro and VIP plans can benefit from advanced features such as the recovery of abandoned carts, one-click buying and discounts. You can also ask for reviews from your customers and choose what reviews you want to show on your store's website. Strikingly doesn't offer inventory management or gift cards.
Strikingly allows payments to be made through Stripe, Square, and PayPal. Be aware the following: Free and Limited plan users are required to spend a 5 percent charge on sales, whereas Pro plan customers must pay 2% on sales.
How Much Does Strikingly Cost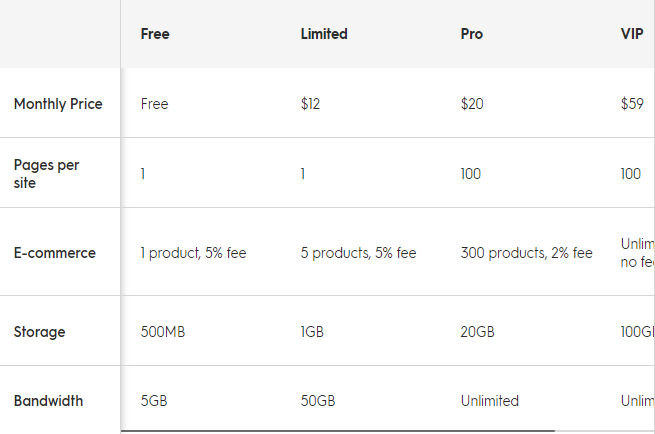 Strikingly has four pricing options including Free, Limited, Pro and VIP. Users of the free plan are restricted to one page per site and cannot connect to a custom domain. The Limited plan lets you connect to a custom domain, and also sell up to five products. It is possible to have two sites however each site will only be able to have one page.
The Pro plan allows three websites with 100 pages per site. You can sell up to 300 items on your site, including memberships. The VIP plan will eliminate the transaction cost for online sales and lets you use live chat to be integrated into your website.
The Strikingly plans are paid on a monthly basis or you can buy an annual subscription of 1 2, 3 or five years. A five-year subscription will save you 50% when compared to the Limited monthly plan and 42% in comparison to the Monthly VIP plan. You are able to try every paid plan during 14 days.
Bottom Line
Strikingly is a user-friendly site builder that comes with a variety of unique features. First, it has an affordable plan that allows online shopping. Additionally, it offers live chat integration and allows you to sell tiered memberships for access to high-quality content to your site. Strikingly also allows blogging as well as automated emails, marketing pop-ups and the ability to purchase with one click.
To access the best features of Strikingly, you need the use of a VIP or Pro plan and both cost a lot. Although the drag-and-drop site builder is simple to use but it's not as flexible in providing the same flexibility in design than other builders for websites like Wix. All in all, Strikingly is best for new website builders who require speed, ease of use and the most advanced selling tools.