Pipedrive was established as a leading CRM for SMBs and enterprises. Pipedrive is used by more than 90,000 people worldwide. It values simplicity in terms of design, function, and setup, and also offers a no-credit-card-required free trial. Some of CRM's most attractive mobile features include the ability to capture and store images directly associated with contacts. Pipedrive will be a good match for sales and marketing teams who like simplicity and integration. Pipedrive offers sales forecasting and reporting, a large library of connector and third-party apps integrations, as well as mobile apps that can be used for Android and iOS to capture leads while on the move.
Tools For Sales Teams
Pipedrive organizes leads according columns that are organized by lead stages. It allows users to log and send emails from within the CRM interface, just like other CRMs. Templates can be shared between teams and edited manually before being sent to leads or contacts.
The "Smart Data Search" widget is located to the left side of the opportunity view. It allows users to quickly recall information about the person associated with their email address. This includes their estimated address and current employer.
It is simple to update the deal status. To update their CRM and their team members about the deal status, users can drag a lead to either the "lost", or "won", buttons.
Pipedrive offers a number of workflow automation tools. When certain deal stages have been reached, users can set up emails to be sent. You can also add to your internal workflows internal actions like account hand-offs and the opportunity to contact conversions.
Tools For Marketing Teams
Pipedrive comes with a native editor and email creator. It also includes the following features.
The CRM allows users to send emails directly.

Preconfigured automation criteria can be used to automatically populate messages. Users can also make manual adjustments before they are sent.

Smart email BCC is a feature that allows users to send emails from outside Pipedrive. The email will be automatically captured and added into the system. Pipedrive can even match conversations to records if they are found for the recipient.

Sales teams have the advantage of real-time notification about email openings and link clicking to be able to identify when a lead is maturing so they can benefit from additional communication.

Pipedrive lets users customize all activity types. For example, if a marketing team conducts frequent workshops on-site, it could be made a CRM property and logged accordingly.
Tools For Customer Support
Pipedrive doesn't have a native helpdesk or ticket-based support tool. Support teams can however use the web-based form creator to create forms that may capture useful information in solving common user problems.
Pipedrive Marketplace also offers many support tools, such as SupportBee, Slaask, and Nectar Desk. These tools integrate some of the support tools from these platforms into the CRM. Pipedrive users can use the Nectar Desk extension to make calls through Pipedrive and add call recordings to the CRM record.
Customizations And Integrations
Pipedrive can be customized at any level. Pipedrive can be customized to meet the specific needs of each organization.

Pipedrive also offers a powerful API that can be used for ambitious users who want to expand beyond the integrations offered by the company's marketplace and third-party marketing automation integration platforms like Zapier.

The Pipedrive Marketplace is perhaps the most impressive feature. It offers a wide range of integrations and apps that can be added into Pipedrive to increase its functionality. These include VoIP tools such as the Ring.io Power Dialer and accounting and bookkeeping software such as Xero.
Reporting And Dashboards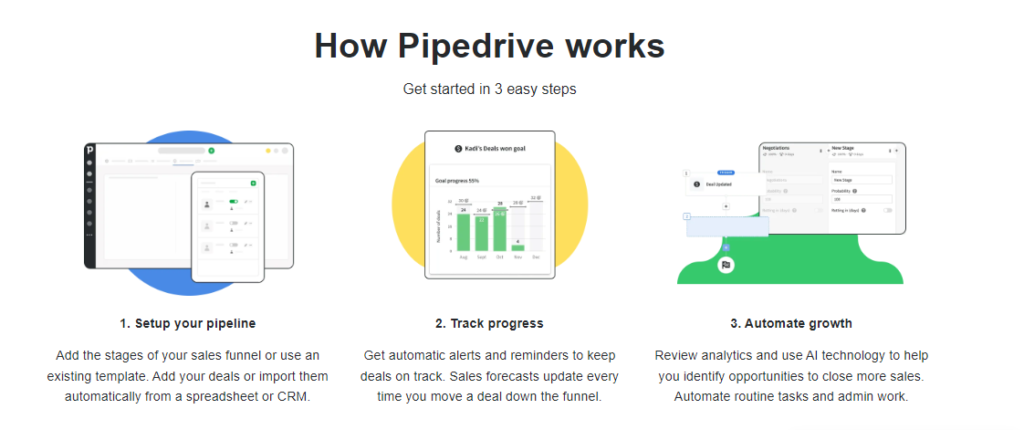 Sales managers can easily retrieve and call up sales data using the sales reporting module.
The filter bar at the left side of the screen allows you to quickly recall statistics for certain times and pipeline stages. Managers can see metrics such as the average number and average value of closed deals per period for each user, as well as the total deal value.
Sales forecasting allows sales teams to forecast their future achievements by using the module.
Forecasting tools provide a detailed breakdown of sales managers' current and predicted pipeline value. This tool is based on their history of creating top-funnel opportunities. This combined value can be used as a guide for business calculations at the top.
Mobile Options
Pipedrive offers apps for iOS and Android. These are the official mobile clients:
Access to all CRM information from the web interface.

Data recall and offline syncing are great for sales teams that lose connectivity.

Automated prompts guide field agents to complete administrative tasks such as remitting payments and entering agreed-upon telephone calls and other engagements into a system.
Plans And Pricing
Pipedrive can be purchased at four levels: Essential, Advanced Professional, Professional, or Enterprise. You can subscribe on a monthly basis or an annual basis, which currently offers a 17% savings.
All four tiers include detailed calendar entry, data scheduling, and revenue forecasting.
These are the differences between the tiers:
The Essential plan does not include a product catalog or web to mobile phone calls. It also lacks many communication, automation, growth, and reporting features.

The Essential and Advanced dashboards allow for one dashboard. Professional and Enterprise dashboards allow for an unlimited number.

All plans include customer service support. Enterprise can access support via telephone and chat for Essential, Advanced, and Professional plans.

There are only two main differences between the Enterprise and Professional plans:

100 workflow automation actions in the Enterprise plan, and 60 in the Professional plan

Unlimited advanced permissions sets for the Enterprise plan, and 3 sets for the Professional plan.
Customer Service
Pipedrive customers have access to basic telephone support. However, only the highest service tiers can get live phone support.
The multimedia help desk offers tutorials on common issues and more complex topics, such as how to sync Pipedrive with a third-party email provider or how to resolve syncing problems using the mobile apps. Most one-to-one support can be provided via an email/ticket-based system that is available 24 hours a day.
Ease Of Implementation And Use
Pipedrive is one of the most simple CRMs to set up and use. The setup process is simple. All you have to do is ask your systems administrator to sign up for a free trial. The subscription can be paid for by the organization after the trial is over.
Pipedrive has created extensive documentation to help users set up common tasks, such as importing user data from an older CRM, configuring custom fields and extracting information from spreadsheets. The CRM can even be used with an app called Import2 which will streamline the setup and import process.
The CRM is extremely user-friendly. Its easy-to-use interface makes it easy for sales teams to track the pipeline and move deals between stages.
What Users Say About Pipedrive
"For the first-time in my life, I don't fear opening my CRM. I can look at it, and see exactly what I need to do and where it is. Sales is something I enjoy now.
Cole Morgan, Canine Protection International's Managing Partner
"We were able make our sales team more efficient by having the right tools that allowed them to sign more accounts, work with more prospects and take less time.
Lisa Coyle, 360 Payments
"We needed something better. Pipedrive was immediately recognized as the CRM that we needed. Pipedrive was a tool that many of our salespeople knew well.
Alexandra, DashThis
Conclusion
Pipedrive is an excellent CRM option for teams who need to stay in touch with contacts and leads as easily as possible. Pipedrive also offers a user marketplace that allows power users to expand on the basic functions of the CRM. For those who really want to explore the inner workings of the CRM, there are other options. Best CRM company
Best Performing CRM by thequick10
Not impressed with these CRM but wait we have more best alternative CRM for you that you will love to see it. These CRM are top rated and personally reviewed by the thequick10.com. Visit now Comparison pages and see top CRM company now