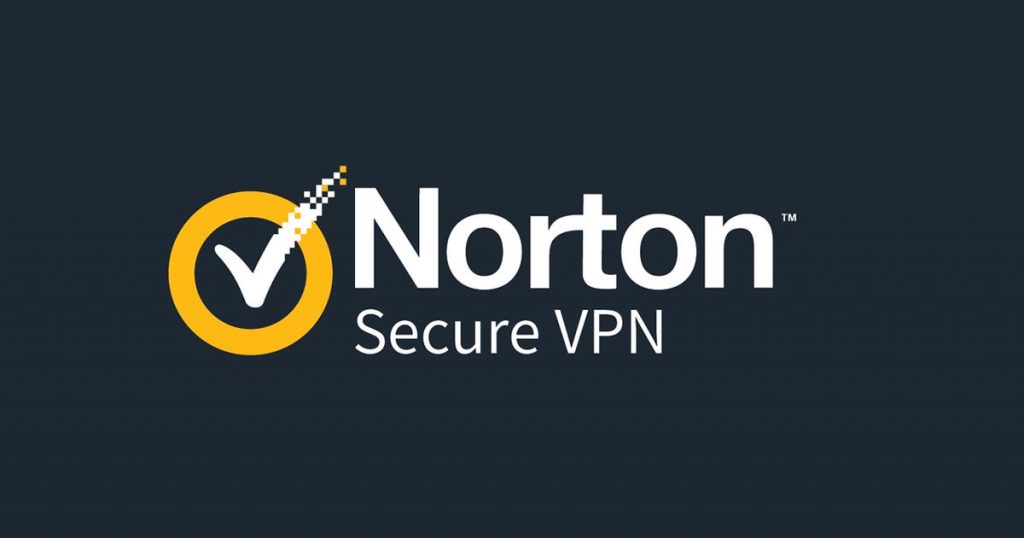 NortonLifeLock Inc, a well-known security product developer, created Norton Secure VPN and distributes it. Although NortonLifeLock Inc is well-known for its antivirus suites it is worth checking if their VPN services meet the same standards.
This VPN offers useful security features such as split tunneling, kill switches, and an ad-blocker. It's compatible with both mobile and desktop devices, so you can protect your privacy no matter where you are.
These are just a few things to consider when evaluating the product's performance. To make the best judgment, we will review Norton VPN's pricing, security, compatibility, and other factors.
Is Norton VPN suitable for streaming?
Norton VPN generally unblocks streaming services. It is not the best VPN for streaming.
We were able to access HBO and BBC iPlayer. This VPN was able to unblock streaming services from the US, while the UK version is restricted to residents of the US.
Norton VPN was unable to bypass Netflix, Hulu, or DAZN's location restrictions. These streaming services' developers are constantly improving their anti-VPN technology, so it's not surprising that some products don't work.
NordVPN and Surfshark are great options if you're looking for a VPN that allows you to watch global content. These VPNs work well with all streaming platforms and allow you to watch your favorite shows from any location in the world.
Norton VPN allows you to unblock Netflix
Norton VPN cannot change Netflix country or region. We tried to connect to the US server, but it wouldn't let us access the show that was only available on the US Netflix library. It was impossible to read the cast information and description without supporting images.
If you want to unblock Netflix, then you need to choose one of the top VPNs for Netflix that have been proven to work. Most VPNs allow you to access more libraries such as those in the UK and Japan.
Is Norton VPN suitable for torrenting?
Norton VPN is not the best choice for torrenting. Despite having a few P2P friendly servers, speeds aren't fast or stable. They average around 2Mbps, with some peaks of up to 8Mbps.
We have tested Norton VPN using an official Ubuntu torrent to give you an idea of how it works. A 3GB file would take over an hour to download, while downloading a VPN-deactivated file takes only 3 minutes. This VPN is not recommended for torrenting.
Other VPNs that allow torrenting offer faster speeds and have dedicated P2P servers. If you are looking for torrenting, I recommend that you look into other options.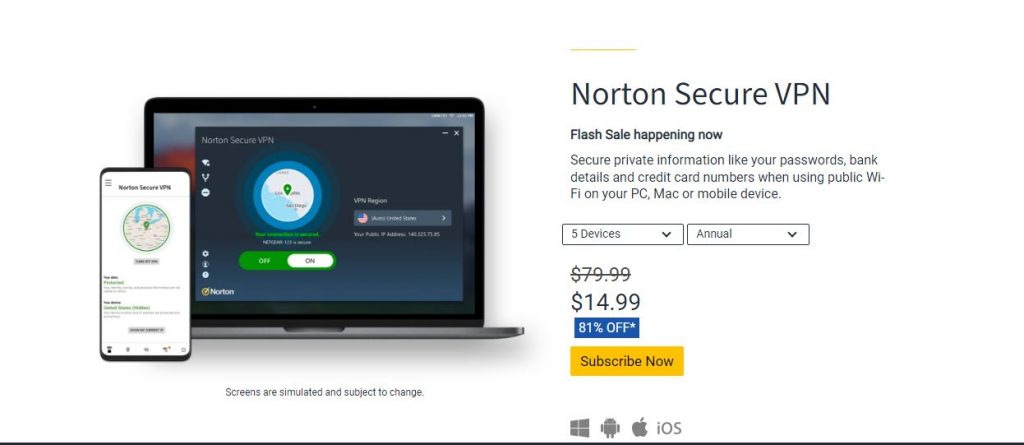 Norton VPN offers multiple pricing options that allow users to choose the most affordable plan for them. Pricing depends on how many devices you wish to install the VPN, and the length of your subscription.
The 1-year subscription costs $2.50 per month and allows for up to 5 simultaneous connections. This will give you the best value. Instead of paying monthly, you'll be charged $29.99 annually.
You can also opt for monthly subscriptions. However, they are more expensive. Here's more information about Norton VPN pricing plans.
1-month plan 1-year plan
1 device $4.99/month 2.50/month, $29.99 annually
5 devices $7.99/month 3.33/month, billed 39.99 annually
10 devices $9.99/month $5.00/month; billed $59.99 annually
You can also get Norton VPN either separately or in combination with Norton antivirus. It is available in the following malware protection packages:
Norton 360 Deluxe ($34.99/year)
Norton 360 with LifeLock Select (99.48/year).
Norton 360 with LifeLock UltimatePlus ($299.88/year).
The antivirus packages are more expensive because they offer many malware protection features, and the VPN is an optional extra. This bundle can be purchased for only $34.99/year. Other plans are more expensive.
Is Norton VPN available for free?
Norton VPN can be obtained free of charge if it is purchased with Norton antivirus. You can test the VPN for free with both LifeLock Select subscriptions and Ultimate Plus subscriptions.
The Norton Deluxe and LifeLock Select will allow you to test the VPN on up 5 devices during the free trial. You can test it on up to 5 devices with the Norton Deluxe or LifeLock Select plans, but you will need to purchase the LifeLock Ultimate Plus plan, which allows unlimited simultaneous connections.
Sign up now and provide your credit card details. The free trial begins immediately. If you cancel your subscription within 7 days, the subscription will not be charged. If you don't cancel your subscription within 7 days, the first year cost for your plan will be deducted.
Locations and VPN servers for Norton VPN
Norton VPN has servers in over 30 locations including Singapore, United States of America, Brazil, United Kingdom, and other countries. The developers have not made it clear that the exact number of servers is available.
Although other reviews and online sources suggest that there are around 1,000 servers, it is fair to wait for VPN service providers to release this information rather than jumping to unfounded conclusions.
Notably, Norton VPN does not allow you to select servers manually. Instead, it connects automatically to the fastest. It doesn't matter how many there are.
You can also choose the server locations that you wish to connect to. You can also use auto-connect to select the fastest location at the moment.
Are Norton VPN's speeds and performance fast?
Norton VPN uses OpenVPN on Android and Windows, along with the L2TP/IPSec for iOS and macOS. You can surf safely online with no issues thanks to the relatively high speeds.
This is the complete information about Norton VPN speeds using the OpenVPN protocol.
Baseline: 300mbps download, 300mbps upload
User interface and Ease OF use
Norton VPN works on all major platforms including Windows, macOS and Android. The best thing about Norton VPN is the identical interface on mobile and desktop apps. You don't have to adapt to different operating systems if multiple devices are running.
It is very easy and quick to install. Follow the instructions to install Norton VPN. You can also download it from the Google Play Store and Apple's App Store. It will install in a matter of minutes on your smartphone.
You can either get a Norton Secure VPN app separately or the complete antivirus suite (with VPN) on your Windows PC. It works on Windows 10, 8, 8.5, and 7, with minor exceptions the S mode in Windows 10 or 11.
It is intuitive and simple to use. You can enable VPN from the main dashboard by clicking on the Turn on button. You can also select a region by pressing the arrow beside it.
Norton VPN Windows app comes with all security features, including kill switch, ad tracker blocking, split tunneling, and kill switch. These settings allow you to access and modify them.
Norton VPN has a macOS-specific app that runs on both the current and two older versions of the operating systems. You can either get it separately or in combination with Norton antivirus, just like the Windows app.
The interface for macOS VPN is nearly identical to its Windows counterpart. The dedicated button on the dashboard will open the VPN. It will open three sections: Secure VPN, VPN Region and Ad Tracking.
Navigating through these sections will allow you to easily activate the VPN, choose a region and disable an ad blocking feature. Norton VPN macOS doesn't offer split tunneling and kill switch.
Norton VPN can be installed on Android phones running Android 6.0 and later. The application has a simple design with clear tabs that make it easy to navigate. It can be downloaded from the Google Play Store. The installation takes just a few minutes.
You can quickly turn on your VPN, select your preferred region and enable both ad blocking as well as wifi security features. The icons are located at the bottom.
As feature-rich and impressive as Norton VPN desktop, the Norton VPN Android version is. It's very user-friendly, and does not require extra actions to use its features.
Norton VPN has more apps than most VPNs for iOS. With minor differences, the interface is almost identical to that of the Android version. The interface is clean and simple once you have downloaded the app from Apple's App Store.
You can toggle the VPN connection on and off using separate tabs. You can also use the auto-connect button to automatically choose the fastest country for your VPN connection.
The iOS version of Norton VPN VPN does not have the split tunneling or kill switch feature that the macOS version has.
Norton VPN provides a simple set of features that will help you to protect your identity, activity and sensitive information online. It isn't as complex as other VPNs but it will provide basic protection.
This VPN currently offers split tunneling and wifi security as its main security features. It is reasonable to expect that more useful perks will be added in the future, as split tunneling and kill switches have only recently been introduced.
Norton VPN provides Ad Tracker Blocker as a feature to help you avoid annoying pop-ups and banners when you surf the web. This feature is intended to improve your browsing experience and protect you from malicious websites that spread malware infections.
If you click on a suspicious advertisement, you may be redirected by a questionable site and asked to install adware. It would then display more advertisements to continue distributing potentially unwanted programs (PUPs). Norton VPN Ad Tracker Blocker will help you avoid these malicious ads and protect all your devices.
You can also see the block history, which allows you to check which websites have been blocked over the past week, 30 days, or all of the time that the VPN was used. This feature is available for all devices including iOS, Android, Windows, and macOS.
The Wifi security feature protects your device from being connected to unprotected networks. This feature is available for both Android and iOS smartphones and tablets. It helps you stay safe when you travel, work in public places, or use your smartphone or tablet.
This feature connects to Norton VPN automatically whenever an insecure network connection is detected. This feature can be configured to start automatically, or you can set it up to receive warning messages and enable it yourself.
You can also add networks you are confident in to the My Trusted Networks section to ensure that your VPN doesn't start when you connect to them.
Split tunneling with Norton VPN allows you to block certain apps from connecting. When you are using certain apps, you can manually choose which ones you do not want to connect to the VPN.
This feature will allow you to route selected apps directly through your ISP, instead of using a secure VPN connection. It can be used with general applications such as games that do not compromise your privacy. It is not recommended that you exclude financial apps and other programs that could contain sensitive information.
Split tunneling is currently only available for Android and Windows devices.
Norton VPN is 100% safe because it uses strong encryption and reliable tunneling protocols to protect your private information. It doesn't store or collect any data about your activities, as it follows a strict no logs policy. This VPN will protect your private information.
Norton VPN employs the military-grade AES256 encryption protocol, which is unbreakable. Each connection you make to the VPN server is encrypted and rendered inaccessible by outsiders.
This cipher is also used by many other respected VPN service providers to protect their users' connection. This protocol is also widely regarded as the gold standard in the VPN industry.
Norton VPN will allow you to choose from two tunneling protocols, depending on which operating system you are using. Windows and Android users have the option to use OpenVPN protocol. MacOS and iOS users can use L2TP/IPSec protocol.
Norton VPN has fewer but more reliable tunneling protocols than other VPNs. OpenVPN, for example, is a well-known protocol that is frequently chosen for its safety. Although L2TP/IPSec may not be as new as WireGuard, it is still widely used in the industry.
These protocols do provide security. However, it would be a good idea to add newer protocols. Given that Norton VPN is constantly being upgraded, we can be sure that this will continue in the future.
In case of a VPN connection being lost or interrupted, the kill switch function protects your IP address. To protect your private information, it automatically blocks all traffic.
The Norton VPN for Windows has recently added this feature to their Android and Windows devices. It acts as a system-wide kill button, which means that it blocks all internet access and not just specific apps. It can be enabled in the settings near the split tunneling feature.
This is a handy security feature because sometimes the VPN connection may drop without you realizing. It is something that everyone would love to have.
It is important to remember that Norton VPN has been registered in the United States, which is part of the 5 Eyes countries. Although the US isn't very privacy-friendly, this VPN makes sure that no sensitive information about you would be available to anyone outside.
It does not store or collect logs about your online activities. Norton VPN developers state that it does not collect subscriber information except for communication purposes. It also receives data about your device and aggregate bandwidth usage.
Norton VPN customers have access to a range of customer support options in case they have any questions or problems with the product. To get assistance, you can visit the official website by clicking on the Norton Support button.
Norton's customer service system will ask you for your choice of solution. Then, it will give you a list of similar answers and offer you different ways to reach the company.
These are your support options:
Chat live
Support available 24/7 by phone
Articles for online help
Messages via Facebook and Twitter
Is Norton VPN worth it?
It can protect your data but it does not support torrenting or unblock many streaming sites. It is not recommended if you require a VPN that can be used P2P and allow access to Netflix and other popular streaming platforms. Norton VPN, an add-on to the antivirus service, is a good option if you want to increase your security online and connect to unknown wireless networks. It is quite affordable and can handle basic tasks well.
How does Norton Security Vpn work?
Norton Security Vpn is an app that helps protect your Internet traffic. It encrypts your data and sends it through a secure tunnel to the Norton security servers. This prevents your data from being intercepted by hackers or other unauthorized people. Norton Security Vpn also allows you to browse the Internet anonymously. This means that no one can track what websites you visit or track your movements online.
The app is easy to use and is available for both Android and iOS devices. You can purchase it online or in stores.
What devices can I use Norton Security Vpn with?
Norton Security Vpn is available on most devices including desktop, laptop, and tablet. You can also use Norton Security Vpn on your phone or virtual private network (VPN) device. Norton Security Vpn is compatible with most devices, so you can use it on your desktop computer, laptop, tablet, or phone. Additionally, you can use it with a virtual private network (VPN) device.
How to sign up for Norton Security Vpn?
Norton Security Vpn is a VPN service that helps protect your online privacy and security. To sign up for Norton Security Vpn, follow these simple steps:
1.Go to the Norton website and click on the "Sign Up" link in the top right corner of the homepage.
2.On the Sign Up page, enter your email address and password. You will then be prompted to choose a subscription plan. The plans available are monthly or yearly subscriptions.
3.Once you have chosen a subscription plan, click on the "Next" button to continue.
4.On the next page, you will be asked to select your location. If you are not located in one of Norton's supported countries, you will need to select a VPN server in one of those countries before continuing. Once you have selected a server, click on the "Next" button to continue.
5.In the "VPN Server Selection" window, you will need to provide information about your device type and operating system. Select the appropriate options and click on the "Next" button to continue.
6.In the "Server Information
How do I activate Norton Security Vpn?
Norton Security Vpn is a VPN service from Symantec that helps protect your online privacy. To activate Norton Security Vpn, first open the Norton Security Vpn app and click on the activation button. You will then be asked to enter your Norton account details. After entering these details, you will be prompted to select a device or devices to connect to the Norton Security Vpn service. You can connect to the Norton Security Vpn service on up to five devices at once. Once your devices have been connected, you will be able to access the Norton Security Vpn service from any location.