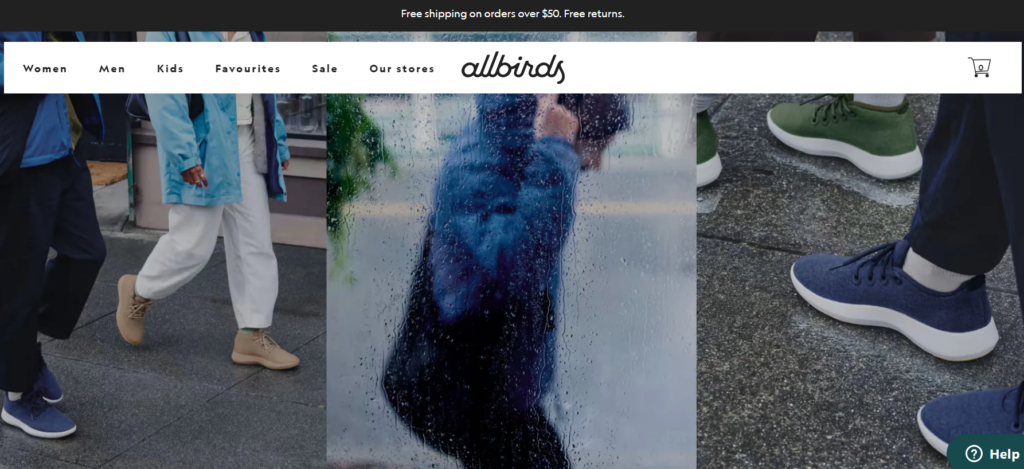 Introduction to Allbirds
Welcome to the world of Allbirds, where style meets sustainability in the most exquisite way! If you're on a quest for trendy and eco-friendly clothing options, then look no further. Allbirds is here to redefine your fashion game while keeping our planet at the forefront of its mission.

With their innovative designs and commitment to using sustainable materials, Allbirds has swiftly made a name for itself as one of the trendiest brands in men's and women's clothing. From cozy footwear to versatile garments, this brand combines comfort with conscious consumerism like no other.

So get ready to explore the exciting products offered by Allbirds, delve into their innovative materials, discover their sustainable practices, and learn how effortlessly you can shop on their user-friendly website. Get ready for an unforgettable shopping experience that will leave you feeling stylish without compromising your values. Let's dive right in!
The Popular Products of Allbirds
Allbirds has quickly gained popularity for its trendy and innovative products that cater to both men and women. From comfortable sneakers to cozy loungewear, Allbirds offers a wide range of stylish garments that are bound to become your new favorites.

One of the most popular products from Allbirds is their signature Wool Runners. These lightweight sneakers are made from superfine merino wool, making them incredibly soft and breathable. With their sleek design and cushioned insoles, they provide ultimate comfort while still looking effortlessly cool.

In addition to their renowned footwear line, Allbirds also offers a variety of other apparel options. Their Tree Dashers combine sustainability with performance by using eucalyptus tree fibers for a breathable and durable running shoe. For those looking for loungewear, the TrinoXO Tee is made from a blend of Merino wool and TENCEL™ lyocell fabric, ensuring maximum comfort without compromising style.

Allbirds also caters to those who prefer slip-on shoes with their collection of Tree Skippers. Made from sustainable materials like eucalyptus tree fibers and sugarcane-based SweetFoam™ soles, these casual shoes offer both style and sustainability.
Innovative Materials Used in Allbirds' Clothing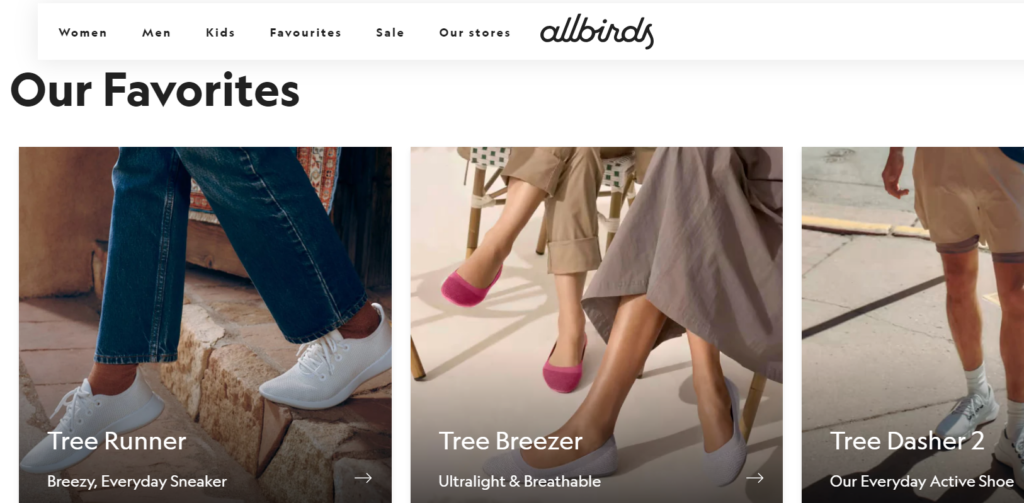 Allbirds is not your average clothing brand. They take innovation to a whole new level with their use of materials in creating garments that are both stylish and sustainable. From shoes to socks, Allbirds uses innovative materials that are sure to impress even the most discerning fashionistas.

One of the standout materials used by Allbirds is merino wool. Yes, you read that right – wool! But this isn't your grandma's itchy sweater kind of wool. Allbirds sources their merino wool from New Zealand farms where sheep are treated ethically and sustainably. The result? A fabric that is soft, breathable, moisture-wicking, and odor-resistant.

But it doesn't stop there. Allbirds also incorporates another unexpected material into their products: eucalyptus tree fibers. This natural fiber creates a silky-smooth fabric known as Tencel™ Lyocell. Not only does it feel amazing against the skin, but it's also produced using environmentally friendly processes.

The beauty of these innovative materials lies in their versatility. Whether you're looking for cozy knits or lightweight tees, Allbirds has got you covered with their range of clothing options made from these cutting-edge fabrics.

In addition to being eco-friendly and comfortable, Allbirds' garments crafted from these innovative materials are designed with style in mind too! You don't have to sacrifice fashion for sustainability when shopping at Allbirds – they prove that ethical choices can be trendy too.
Sustainable Practices and Ethics at Allbirds
Allbirds is not just a trendy fashion brand, it's also committed to sustainable practices and ethical production. From the very beginning, Allbirds has made it a priority to minimize its environmental impact while creating stylish and comfortable garments.

One of the ways that Allbirds stands out in terms of sustainability is through their choice of materials. They have developed their own unique material called "Trino™" which combines Merino wool with TENCEL™ Lyocell fibers derived from renewable eucalyptus trees. This innovative blend ensures that their clothes are not only soft and breathable but also environmentally friendly.

In addition to using sustainable materials, Allbirds takes great care in selecting suppliers who align with their values. They visit the mills where their fabrics are produced to ensure responsible manufacturing practices such as minimizing waste and reducing water consumption.

But sustainability doesn't stop at production for Allbirds. They also take into consideration the end life of their products by offering a recycling program called "ReBird". Customers can return worn-out shoes or clothing items, which will then be recycled into new products or repurposed for other uses.

Allbirds is constantly striving to improve its sustainable practices and reduce its carbon footprint even further. By prioritizing environmental responsibility throughout every stage of production, they are setting an example for other fashion brands on how to be both fashionable and eco-conscious.

So next time you shop online at Allbirds, you can feel good about your purchase knowing that you're supporting a company that values sustainability as much as style!
How to Shop on the Allbirds Website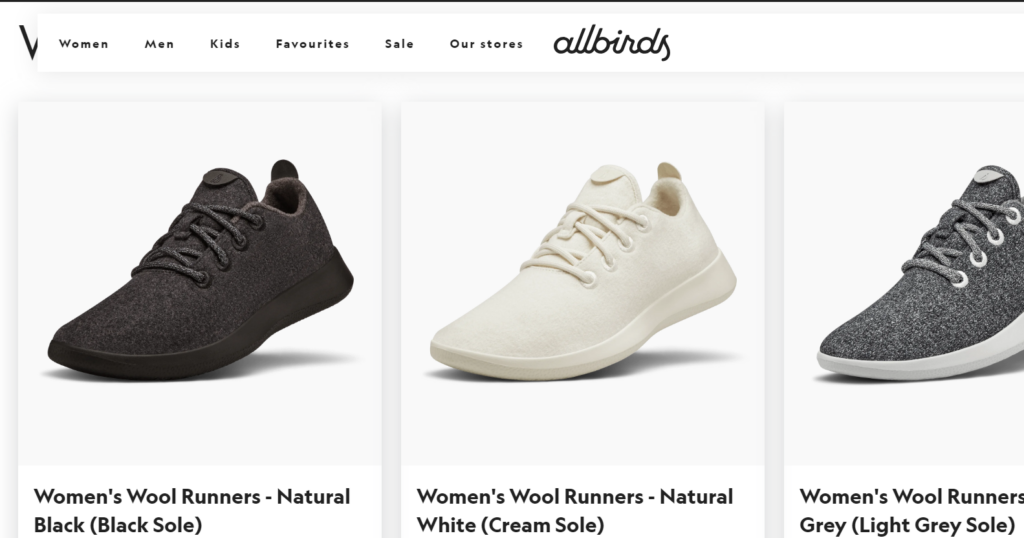 As we've explored the various aspects of Allbirds and their trendy men and women's garments, it's clear that this brand is not only stylish but also committed to sustainability and ethical practices. With innovative materials like merino wool and eucalyptus tree fiber, Allbirds offers a unique blend of comfort, durability, and eco-friendliness.

When it comes to shopping on the Allbirds website, they have made the process simple and user-friendly. The intuitive layout allows you to easily navigate through categories such as shoes, apparel, socks, accessories for both men and women. Each product page provides detailed descriptions along with customer reviews to help you make an informed decision.

Additionally, Allbirds offers free shipping on orders over $50 in the United States so you can enjoy your new garments without any additional costs. And if for any reason you're not satisfied with your purchase, they have a generous return policy that allows you to return or exchange items within 30 days of purchase.

In conclusion (without explicitly stating it), shopping on the Allbirds website is a seamless experience that ensures convenience while offering high-quality sustainable clothing options suitable for everyone's wardrobe. So why wait? Head over to their website now and embrace comfort without compromising style!